Explore all Pilates Services

At Phoenix Classical Pilates you can experience the highest quality of classical Pilates instruction in Santa Monica. Whether you take private Pilates sessions, group Pilates classes, or virtual mat classes you are guaranteed to have a healthy, fit, pain-free body. To get the most benefit from your practice we recommend if possible, to come three times a week. Mix it up – do one mat class at home on Zoom or in the studio, take a Group Equipment and a private or duet session another day.
Covid Protocols
Here at Phoenix Classical Pilates we take every precaution to keep teachers and clients safe.
All of our staff are fully vaccinated and boosted. To work out at Phoenix, all clients must show proof of vaccination.
We follow current CDC guidelines as well as city mandates for masking. We ask that all clients wash their hands before class.
The studio is well ventilated with our doors kept open for airflow. The space is never crowded with a max of 5 people per class.
We thoroughly clean and disinfect all equipment after each use.
New Client Offers
Start with Private Sessions
3 Private Sessions
$270
(1 month expiration)
Start with Group Classes
3 Pilates Group Classes
$89
(3 week expiration)
Private and Semi-Private Pilates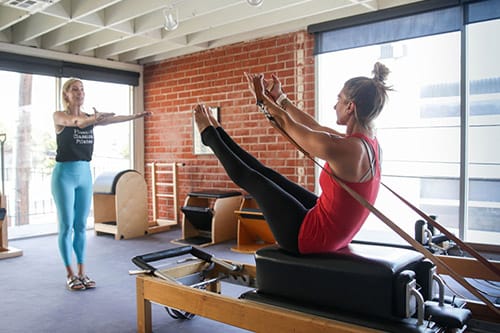 Private Sessions
(55 minutes)
One on one instruction. Your instructor will tailor your workout to exactly what you need that day. The perfect way to begin if you're new to Pilates.
| | | |
| --- | --- | --- |
| | Senior Instructor | |
| One Private | $125 | |
| 4-pack | $460 ($115 each) | |
| 8-pack | $880 ($110 each) | |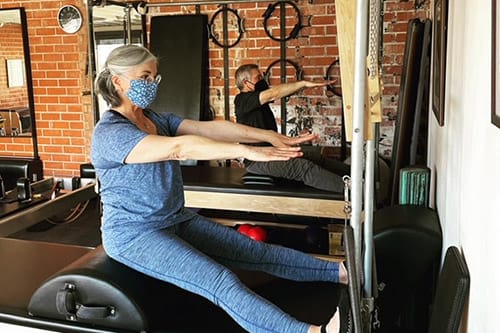 Duet Sessions
(55 minutes)
Two students with one instructor. Get personalized instruction while taking a session with your friend or loved one. Must provide your own partner.
| | | |
| --- | --- | --- |
| | Senior Instructor | |
| One Duet | $80 per person | |
| 4-pack | $300 ($75 each per person) | |
| 8-pack | $560 ($70 each per person) | |
Group Pilates Classes
UNLIMITED
Monthly Subscription
Enjoy as many group classes at Phoenix as you like (no more than one a day though!) for one monthly price. Mat classes either virtually or in-studio and all Group Equipment classes with our great teachers.
$297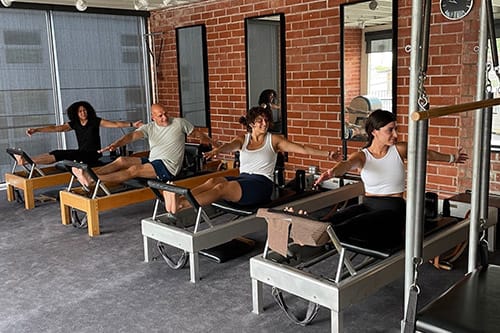 Group Equipment Class
(55 minutes)
Group Equipment Classes are 5 person max classes using the equipment. The bulk of the workout is on The Reformer and time permitting we finish with a circuit on the Cadillac, Chairs and Barrels – whatever the class needs that day. All levels welcome though we (highly) recommend taking 3-5 privates (start with new client intro package) before joining our group equipment classes.
| | | |
| --- | --- | --- |
| Drop-In Class | $45 | |
| 4-pack | $160 ($40 each) | |
| 8-pack | $300 ($37.50 each) | |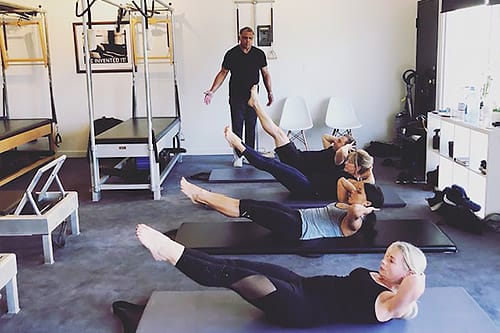 Virtual & Hybrid Mat Class
(50 minutes)
These classes are all on the Mat. Some are virtual-only, some are hybrid, meaning some people will be on Zoom, some in the studio. We'll mix it up with weights, a Magic Circle, a ball and band, but don't worry if you don't have these items. We can improvise with water bottles, soup cans and pillows. You'll receive the link when you sign up.
| | | |
| --- | --- | --- |
| Drop-In Class | $25 | |
| 8-pack | $200 ($25 each) | |